Clients with multi-property venues may wish to take advantage of our Leads Module which allows for new leads to be managed and distributed to venues in the group.
iVvy has a Leads Module that can be turned on in your account by contacting support@ivvy.com
The Leads Module serves two purposes:
A centralised area for multi-property accounts that allows BDMs and DOS the ability to manage prospective sales. Leads can be created from the Global Contact section, have sales activities and notes recorded against the lead, and then be distributed directly to a venue as an Opportunity

The ability for Venues with Accommodation to create individual Accommodation Contracts
In both instances, a Lead will need to be created.

Creating a New Lead
Navigate to Contacts > Leads

Click Create New Lead

Give the Lead a Name. This is similar to how you name your opportunities, and best practice is to add in the Company/Contac name and the prospective event. For Example, iVvy Awards Night 2023

Enter the Company / Contact details. Note: All contacts in iVvy are Global, so make sure you search for an existing company / contact before creating a new entry.

Select the Sales Person

Select the Lead Type. Learn more about Setting Lead and Opportunity Types

Select the Source and Channel. You may wish to expand your sources and channels to include for example a regional sales team who generated this lead through prospecting activities and networking events

Define the Stage for the Lead. Ensure that you select a stage under the heading Lead for all newly created leads. See next section for further details

Add in a description of any known details for the new lead

Complete any additional custom fields. You can add in your own custom fields by navigating to Global Settings > CRM > Custom Fields

Click Save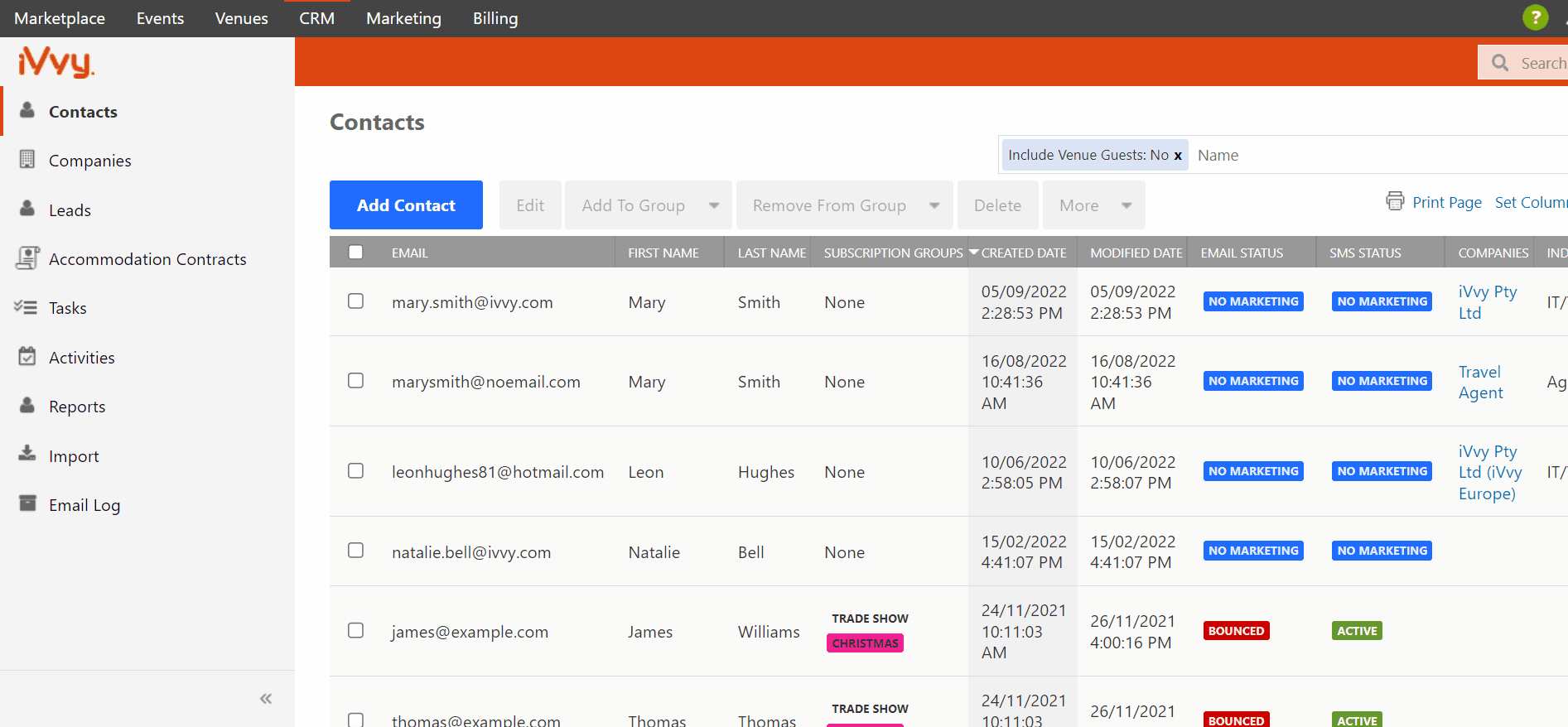 Editing a Lead
Once you have created your new lead you will be able to use the following tabs to record notes, tasks, activities and emails against the lead
Notes - Click Add Note to manually record a note against the lead

Emails - Use the Lead CC email address to track all email correspondence for the lead. If you have an email chain already, you can forward the email chain to this email address

Tasks - Set yourself reminder tasks to follow up your lead

Activities - Record the sales activities that you have undertaken to secure this lead. For Sales Managers, iVvy has a Detailed Sales Activity Report and an Activity Summary Report to track the activities for each individual staff member and to help analyse the strategies that are yielding the best results
Note: You can create an Activity while creating a task, and also create a follow-up task when creating an activity to speed up the recording process.

Lead and Opportunity Stages
Similar to Opportunity Stages, Leads also have Stages that allow you to record where the lead is up to in your sales cycle. iVvy has default lead stages that can be edited and expanded upon by Updating your Lead and Opportunity Stages
Updating the stage of the lead from the Leads Module will keep the lead in the Global Contacts and Leads Module and will not be visible to individual venues. Once your lead progresses to the point that it is ready to be placed in the function diary of an individual venue, you can update the stage of the lead to any stage under the Opportunity heading.
Once you have selected an Opportunity Stage, you will be prompted to select the venue to receive the opportunity. Clicking save will move the lead from the Leads Tab to the Opportunities Tab of the selected venue. The venue can then create a proposal, contract, invoice, and event order as per normal.

Multi-Venue Quote
iVvy has the ability to create a Multi-Venue Quote Document from within a Lead. This document uses merge fields such as venue name, description, images, function spaces etc to show potential customers your different offerings.
Click on Documents

Click Create Document > Multi - Venue Quote

Select the Venues to be featured in the Quote

Select the Function Spaces to be featured in the Quote

Select your preferred template

Click Create Document

Once the document is created, click on preview and then Generate Document to create a PDF of the document

Select the document and click EMAIL to send the quote document to your lead contact
The Multi-Venue Quote can be created and edited to add your branding from Global Settings > General > Merge Templates
Learn more about Editing your Document Templates