Xero User Guide

iVvy - Xero Integration
The iVvy - Xero integration pushes invoices, contact & payments to Xero. This integration is only available for venue integrations at this point in time.
What Will Sync
| | | |
| --- | --- | --- |
| XERO | Direction | iVvy |
| Contacts | | Contacts |
| Contacts | | Companies |
| Invoices | | Invoices |
| Invoice Line items | | Invoice Line items |
| Payments | | Payments |
| Refunds / Credit Notes | | Refunds |


Structure And Format

The extension is available at an account level and venue level. When installed at an account level, the system will use default values and parent cost centers as the xero extension at an account level does not have access to the venue level cost centers.
It is encouraged and recommended that the Xero extension be installed at a venue level to provide the greatest flexibility and control of the extension. If you wish to use venue level cost centers & taxes, you will need to install the extension at the venue level.
Configuration Settings

The configuration for the Xero extension is similar on both the Venue and Account level. The main difference is in the Venue level extension, you can control taxes and venue level cost centers.
The configuration settings are split between default mapping values and specific item by item specific mapping. You will be required to set the default mapping values as they are used as fall back options when the specific item by item mapping is not completed.
Xero Settings
There are no settings required on Xero's side to get the extension between iVvy and Xero to operate. You'll only be required to install the extension and connect your account.
INSTALLING & CONFIGURING

Navigating iVvy To Extensions
You will need to install the extension at an account level first. To do so, go to the "Cog" top right hand corner of the screen > Go to "Applications" in the Menu on the left hand side > Go to "Extensions"
If you wish to install at the venue level, use the "Skip" button available in the Xero settings.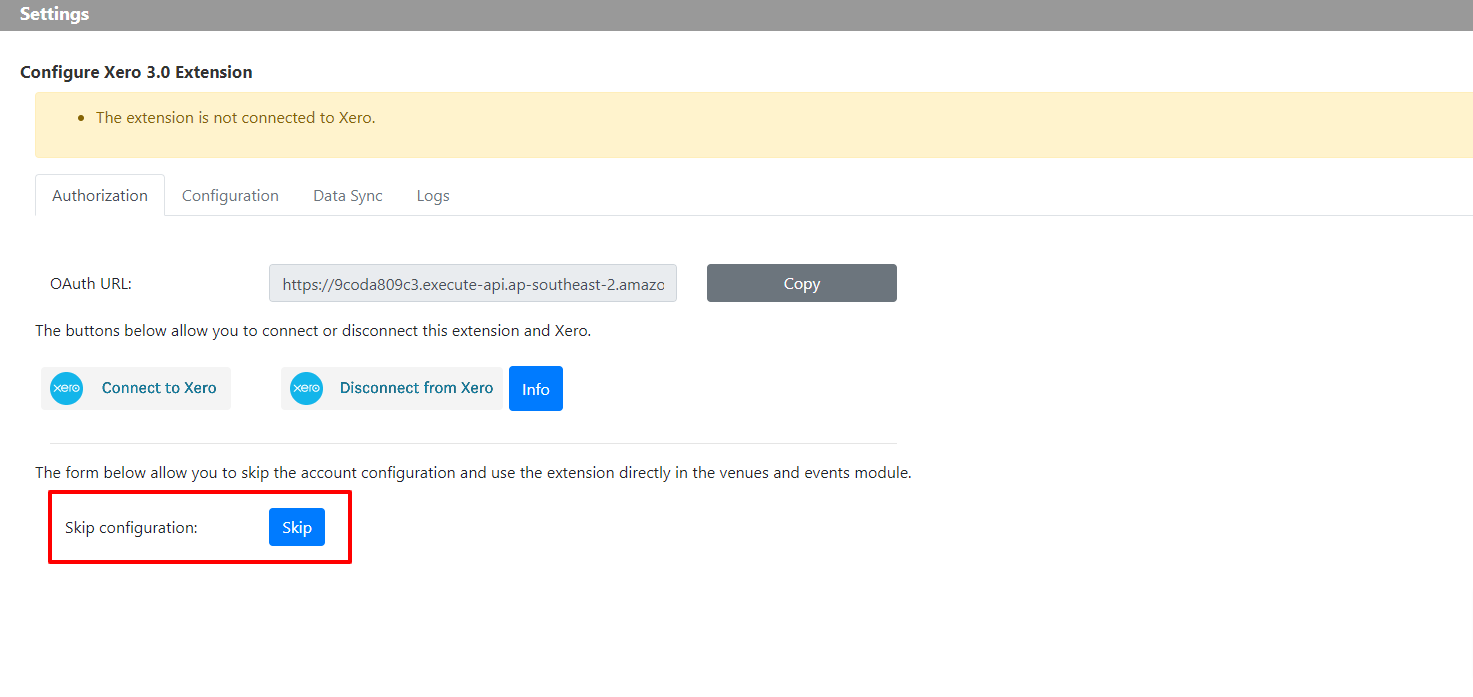 Once you have installed the extension into either at the account level or the venue level, you will need to configure it.
Click the "Connect to Xero" button which will redirect you to Xero's login area. Login with your Xero credentials.

Log into your Xero account.

Once you have logged in, you will be directed to a page that will request the "iVvy Connector" to connect to your account.

You will be redirected to the Xero extension page that will now allow you to configure the Xero extension.

The settings in the image below will need to be configured before the extension can activate.
Migrating From "Xero Venues" or "Xero Events"
If you had our previous "Xero Venues" or "Xero Events" extension installed, we will need to migrate your existing contact data from the deprecated extensions to our new Xero 3.0 extension. You can use the data sync option to migrate your contacts which will create a new mapping and allow the contacts to correctly map between both systems when a new invoice is created in iVvy.

FAQ
How Do I Disconnect From Xero
You can disconnect from Xero using the "Disconnect From Xero" button in the extension. This can be accessed by going to Extensions > Xero 3.0 in either your account or venue.
Is The Data Sync In Real Time
Yes it is. This real-time sync will happen with any action that you perform against an invoice, or if you apply a payment.
My Invoice Is Not Syncing
When an invoice does not sync, there are various reasons as to why the invoice cannot sync. Here are a list of common reasons the invoice failed to sync:
The Contact in Xero has been marked inactive. When we attempt to sync an invoice, we create a mapping between the contacts in Xero and iVvy. However, if the contact is marked as inactive, we cannot use it.
You will need to mark the contact as active to allow the invoice to continue to sync.

Incorrect Mapping of Account Codes. This can happen to anyone, it is important to ensure that the accounts you are mapping to (iVvy Cost Centers to Chart of Accounts) are configured correctly and allow us to pass invoice line items into them.
Commonly, we tend to notice that customers will attempt to pass an invoice into a Bank Account or an account that is marked to take payment only. The simple fix to this is to ensure that you are using the correct account and then you can resync the invoice.

"The document cannot be edited as it is currently dated before the period lock date" - This is an error we can receive when your accounting team has locked out a period of time preventing editing beyond a certain date.
When this occurs, we are unable to process any information into Xero. It is important to ensure that there are no period lock dates for a specific or date range as iVvy will attempt to update an invoice if any changes are made.
LOGS
Part of our extensions is logs. Our logging is a crucial debugging tool to identify when things simply do not work the way they should. Our logging system will show you any transactions going between iVvy and Xero, both ways.
There are 4 log types available:
Profile - The profile tracks contacts syncing between both systems. Only new and updated contacts from iVvy can sync between both systems.

Invoice - The invoice tracks invoices syncing between both systems. Only new and updated invoices from iVvy can sync between both systems.

Payment - The payment will track payments between both systems. Payments can flow from either system. (Refunds can only come from iVvy).

Refund - This will track refunds or credit notes being created and pushed to Xero. Refunds / credit notes can only originate from iVvy.
You can track the time and type of message (information, warning or error). If you have an issue with an invoice, you would select Invoice as the message type. Then you would select the Level to "error" which will show you the errors that might be available which can help diagnose the issue.