Learn how to create room hire/room rental plans so the system can recommend room hire/room rental plans when creating a session/function.
Room hire/room rental plans serve 2 purposes- first purpose is so that you can advertise what you charge for room hire etc on the Marketplace/ Booking Engine to customers. The second purpose is to remove that piece of paper that may be at your desk telling you what you need to charge for room hire. Instead you can build that plan into iVvy and iVvy will recommend what you should be charging for room hire. This will show just as an estimation and you have full control to type what you want to charge the client- it is purely a recommendation to keep everyone consistent.

When you build a room hire plan you can indicate what months and days of the week this plan is for and what the rate is so you can yield your space.
To Create a new Room Hire Plan
Navigate to Setup > Function Spaces > Room Hire Plans

Select 'Add Room Hire Plan'

Complete the following:

Code: Select a code for your plan, for example, "Peak". This is purely for the backend.
Name: The name of your room hire plan will be what users see when selecting what room hire they want to charge.
Is Default: If Yes is selected prices will display on the Marketplace and Booking Engine for Room Hire.
Description: The description is for internal purposes and is not mandatory
Minimum Spend Revenue: Select which costs centres contribute to the minimum spend revenue.

Select the 'Rates' tab across the top of the screen and click 'Add Rate' and complete the following:

Colour: Selecting a colour will reflect the rates on the Room Hire Calendar.
Start & End Date: Add in the dates where this pricing structure will be in effect
Days of the Week: Tick the days of the week the pricing structure applies to.

Select the 'Room Hire Rates' tab
Edit each function space and load the suitable and applicable room hire/room rental charges. If your Hourly, Half Day, Full Day and Evening Rates are per person for a space, please ensure you update; Are Sale Prices Per Person

Note: iVvy allows you to enter a Hourly, Half Day, Full Day and Evening rates along with a Minimum Spend. You will have the option to enter the minimum requirements for half day, full day etc. This logic will be used if you are a Live Book venue so iVvy can determine what room rental to charge the client.
Click 'Save' prompt until window is closed.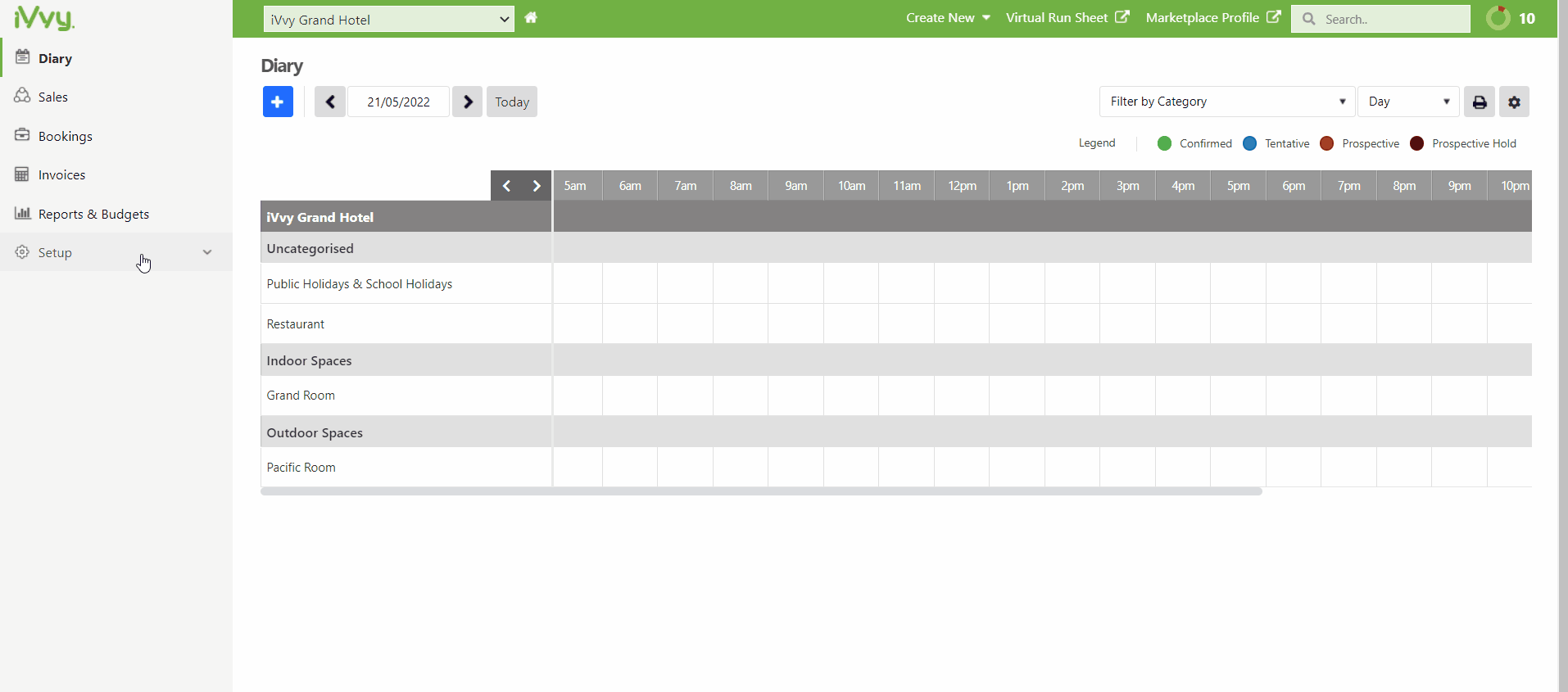 View Room Hire/Room Rental Plan Calendars
If you have a client on the phone or you want to view room hire/ room rental plans quickly, the Room Hire/ Room Rental Calendar is a great tool to utilise.
Navigate to Setup > Function Spaces > Room Hire/ Room Rental Plans
Select Room Hire/Room Rental Plans and click 'Calendar'
Hover over the date you are interested in and the system will show you the relevant prices if you have entered any for that date.