When an invitation manager logs in, they will be able to see reports for what contacts they have invited to an event already. They can also the status of the invitation (whether they are undecided, accepted or declined etc).

They will be able to RSVP a contact to an event (Is they select "accepted" then the contact will automatically be added to the event as a registration), and cancel invitations for certain contacts as well.

They can also add new contacts to the database (which are automatically assigned to them as an invitation manager as well.
Invite Contacts to an Event
Adding a New Contact
Viewing your Invited Contacts for an Event / RSVPing Contacts

To Invite a Contact to an Event
Login as the Invitation manager
You will land on the contacts section of your account.
Tick the contacts that you wish to invite, click "Invite to Event" you will be prompted to select the event that you are inviting the contacts too, and the priority that they are to be invited at.
Click save

Adding a contact into your database
Login as the Invitation manager
You will land on the contacts section of your account.
Click "Add Contact" and fill in the fields accordingly.
You can then invite the contact to your events.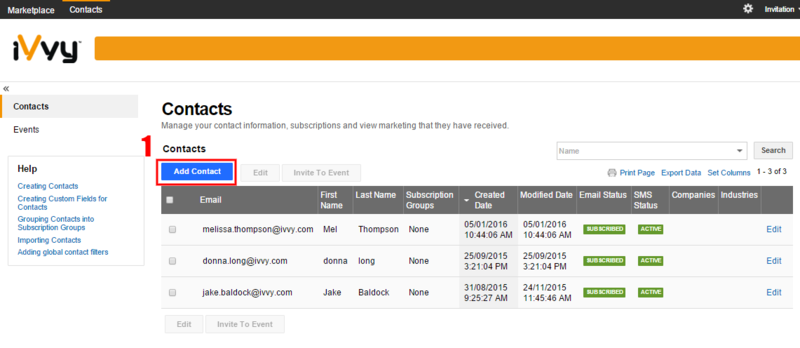 Viewing Invitations for an Event / RSVPing contacts to an Event
As the invitation manager, if a contact calls you to RSVP to an event you are able to view reports of who you invited, and accept them to the event and automatically generate a registration to the event.

To View Invitations and Accept them to an Event
Login as the Invitation Manager
Click on events on the left hand menu
Click the "View Invitations" button to the right of the event you are enquiring about
You will see the list of contacts you have invited. They can be sorted to your preference by clicking on the dark grey heading bar of the column you wish to sort by. They will be sorted by priority by default. You can use the search bar at the top right hand corner to search for a specific contact if they contact you to RSVP.
To RSVP a contact tick the tick box to the left, click "Change Status". If you select "Accepted" then you will be prompted to assign a ticket to the registration. Then you can save and the contact will be registered for the event.
You can also change the priority of the invitation by ticking the contact and clicking the "Change Priority button and selecting the new priority of the invitation.