Learn how to bulk download multiple documents inside of your booking such as Sesssion/Function BEOs.
iVvy allows you to bulk download your documents for multiple bookings, however we now have the functionality so you can bulk download multiple Documents inside a booking as well.
Creating a Merged Document when Creating your BEOs
When creating your BEOs if you select Skip Preview, you will see the new prompts to Merge Documents. If selected you will be able to see your Single or Compressed BEOs or Banquet Checks under the new Merge Documents Tab.
Navigate to Bookings > Bookings > Edit Booking
Click the Documents Tab > BEOs > Create BEO
Select Skip Preview > Yes
Select the Merge Type

Single - This will merge all documents into a single PDF document, with each Document for example starting on a new page
Compressed - This will download all documents individually into a Zip File where you can open each document

Click 'Save'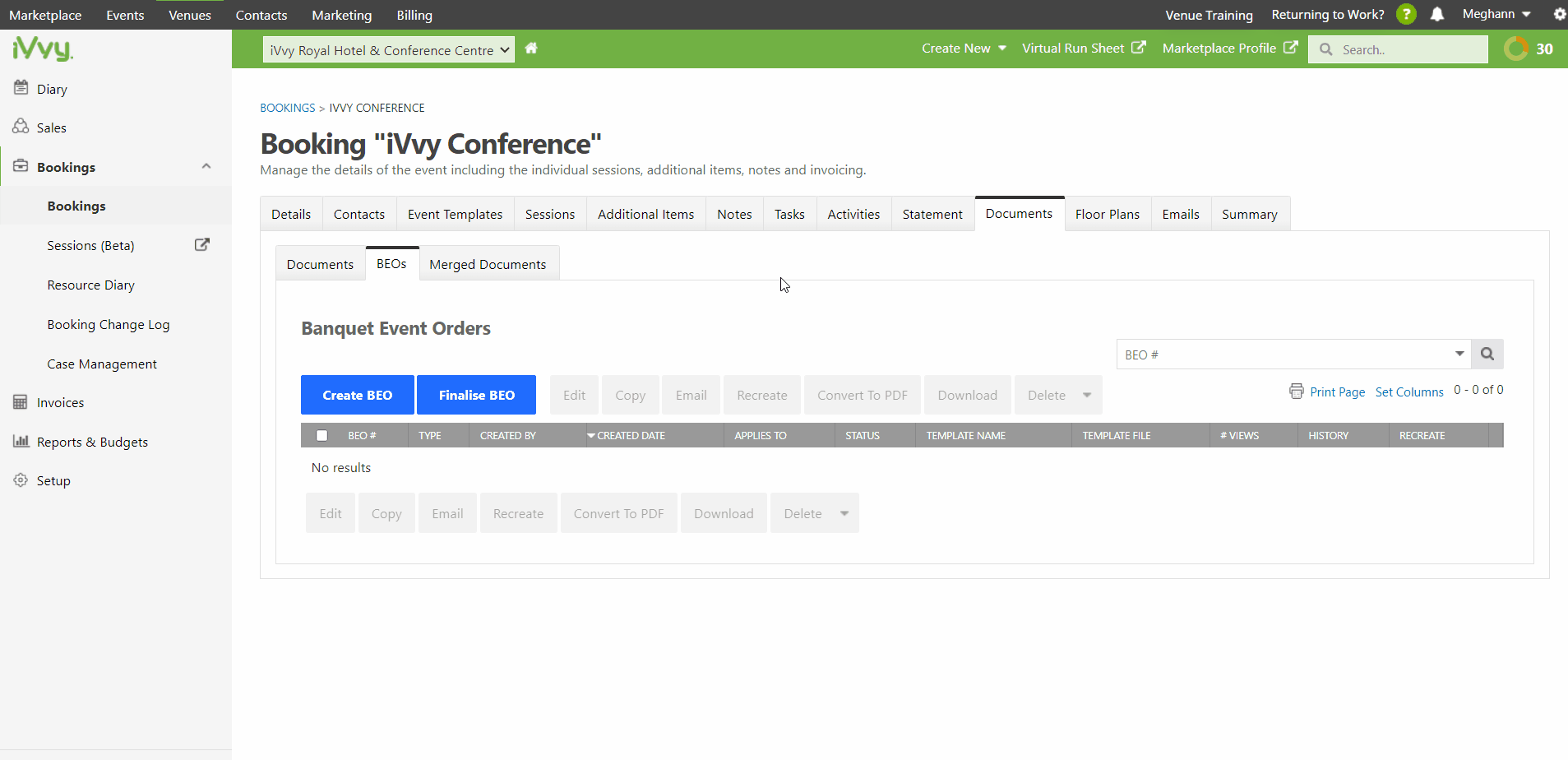 Creating a Merged Document for Existing Documents in a Booking
Under the Documents tab you will also have a Download Documents button which functions just like our current bulk download process.
Note:
Before being able to download these documents, they must still be generated as a PDF.
Navigate to Bookings > Bookings > Edit Booking
Click the 'Documents' Tab
Select your documents. You can use the search bar to find specific documents
Click 'Download Documents'
Give the download a name
Select the Document Type. You are able to bulk download your

BEOs - Event Orders
Banquet Checks
Resumes
Quotes
Contracts

Select the Merge Type

Single - This will merge all documents into a single PDF document, with each BEO for example starting on a new page
Compressed - This will download all documents individually into a Zip File where you can open each document

Select if you wish to download all latest created documents or the most recently created document
Click 'Generate'
To access your documents, navigate to Bookings > Booking Change Log > Merged Documents
Click Download to access your documents