Learn how to add Audio Visual, Theming or Staffing into iVvy as a Resource.
A resource in iVvy could be audio visual equipment, theming, staffing or equipment for an event.
To create a new resource; navigate to your venue and follow the below steps:
Setup > AV & Setup > Resources.
Click 'Add Resource'.
Complete the below detail about your resource:

Name- Name of the resource. This is what will appear on your Estimated Billing Summary and BEO.
Code
Cost Centre- Please select the cost centre you would like revenue allocated to for the resource.
Category- A resource category will categorise your resources on the Marketplace and Booking Engine forms. Please select the appropriate category.
Active Status- Should your resource only be available for a certain time of the year, please complete. If left blank it will be available all year round with no expiry.
Short Description- The short description is used for internal purposes and is not displayed anywhere.
Has Sub Resources- If the resource is a package and offers multiple resources, you will want to build the individual resources first. When creating the resource for the package, you will select 'Yes'. You will then select the sub resources and quantities that make up the package.
Limited Quantity- If a quantity is entered the system will not allow you to oversell the resource across events at the same time. If you would like to enter a quantity to enable this feature, select 'Yes' and set the quantity.
Alternatively if a resource is not limited and you do not need to track quantities, select 'No'.
Is External- If the resource is provided by a third party, please select 'Yes'. You will be required to nominate which company owns this resource that you hire from. If you do not currently have the company in your system, then you can click "add" and insert your company.
Note: External resources will not appear on your Resource Diary and cannot be added to Event Templates.
Alternatively if the resource owned and managed by your venue please select 'No'. You can choose to nominate the staff member who manages the resource, however this is not mandatory.
Is Price Per Person
Can Book By Hour- If you have a resource that may be charged out on an hourly basis, then select 'Yes' and add in your hourly sales price and cost to yourself.

Daily Sale Price- If you have a resource that may be charged out as a flat rate, please enter the flat rate price and cost to yourself.

Is Viewable on the Marketplace- If you would like your customer to be able to select a resource when submitting an inquiry on your Marketplace listing or booking form, please select 'Yes'.
You will have the option to allocate resources to specific spaces as well as enter Minimum Hours for Daily Price so the system can identify when to charge hourly vs daily sale price.

Once all information is entered, click 'Save'.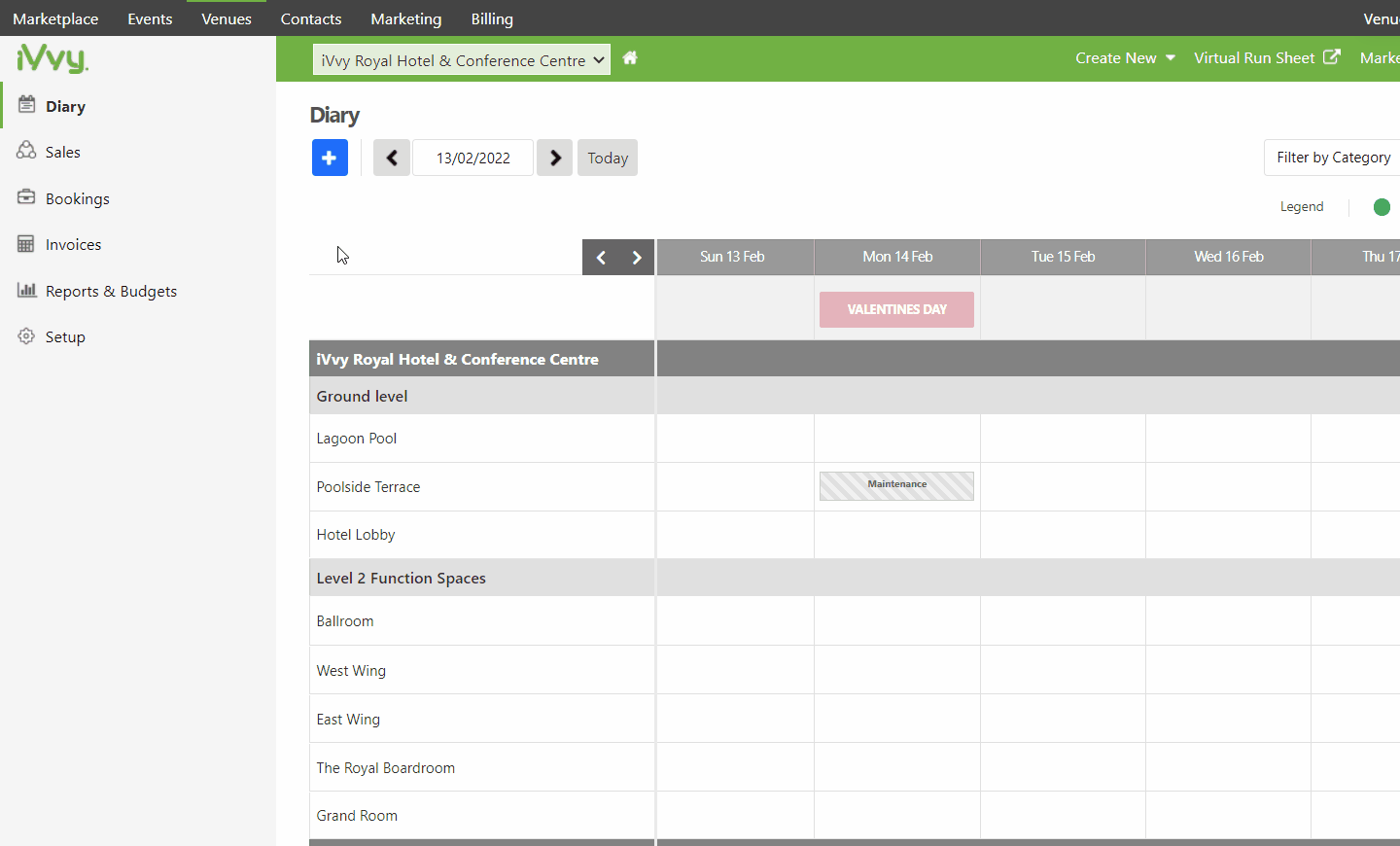 Once saved the resource will now be available to add to quotes and bookings.