Learn how to add payment terms to a booking or quote and create an invoice
Creating Payment Terms and an Invoice
Depending on your own workflow, the next step is normally to confirm the payment terms for the contract and to create a deposit invoice. Please review our Invoice Overview Knowledge Article for an in-depth understanding of how payment terms and invoices are added and created.
Click on the Statement Tab

Click on Payment Terms

Confirm or edit the payment terms for the contract

Click on the Statement Tab

Click on Add Invoice > Payment Terms > Select the Deposit Payment (or your required invoice)

If you wish to send the invoice to the client now, select the invoice and select Email. Alternatively, you can send the invoice and the contract together in the next section.

Creating and Emailing a PDF or E-Contract
Before creating a contract, ensure you have added the Payment Terms to the booking, as these will be merged into the contract.
Click the Documents Tab
Click Create Document
Select PDF Contract or E-Contract depending on your preference. Learn more about Creating Document Templates.
Select My Templates from Template Type. (Only use standard templates if you have been advised to do so)
Select your preferred template
Add in the optional expiry date of the contract
Press Save
The page will refresh automatically until the document is ready. Click on the Edit button.
Review the document and amend the terms and conditions as required. At this stage, you can save the document as a draft.

Note: Do not edit any text or monetary value in the Summary Outline or Estimated Budget Outline. If you need to alter the items or price, cancel this preview and change the actual items from the tabs from the steps above and recheck the summary tab
When ready press the Generate PDF or Generate E-Document Button
The page will refresh until the document is ready. Select the document and press Email
Select a template and select the documents you wish to send. At this stage, you can send both the contract and the invoice generated in the last section at the same time. Press continue and send the email as per sending the proposal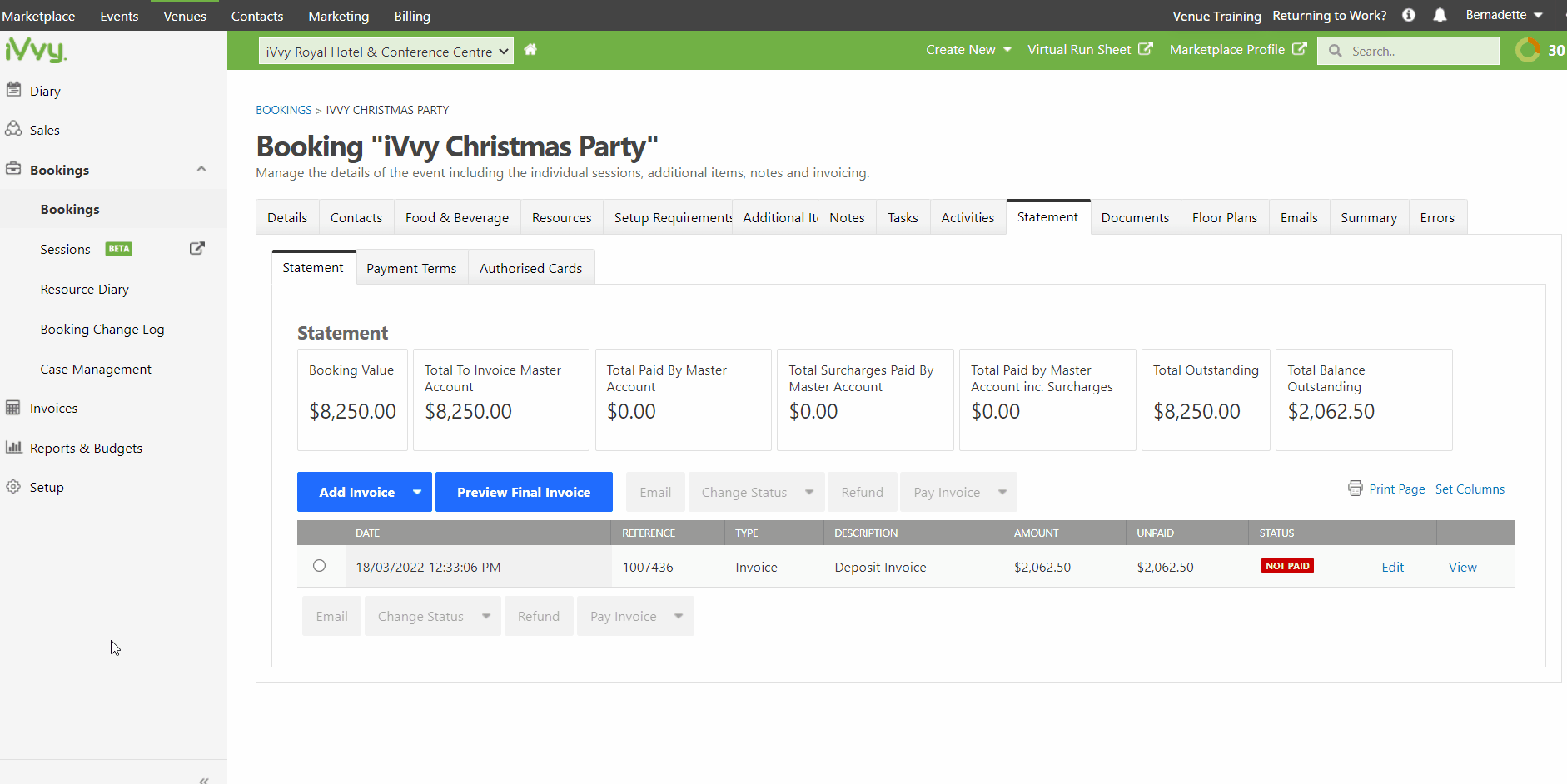 Confirming a Booking, Uploading a Contract, and Paying an Invoice
Once the client has paid their deposit and signed the contract (depending on your own business procedures) we can now confirm the booking.

Note. Under Setup > Venue Details > There is an option to automatically update the status of the booking to be confirmed once the deposit invoice has been paid. If you have used the Pay Now button and an E-Contract Template, you will receive a confirmation email and the status of the booking will automatically be changed to Confirmed.
Navigate to your booking under Bookings > Bookings or from the Function Diary

Click on the Details Tab

Click Change Status and change the status to Confirmed

Update the reasons and the date as required

Click onto the Documents Tab

Click on Upload to manually upload a signed paper copy of the contract. If the customer has digitally signed the E-Contract, you will be able to view the customer copy which is now saved in your booking. You will have received an email advising that the customer had signed the contract.

Click on View Venue to view your copy and countersign if required

Click on the Statement Tab

If the invoice has been paid already via the Pay Now Button or via one of our integrated accounting systems - it will be marked as PAID. To manually mark the invoice as paid, select the invoice and press Pay Invoice > Other

Select the amount that was paid and the method and press save

Learn more about Invoicing