Learn how to create and manage Accommodation Contracts
Before creating an accommodation contract, you will need to have this feature enabled on your account. Please contact your Customer Success Manager or support@ivvy.com to have Accommodation Contracts added to your account.
An Accommodation Contract can be created per venue to set:
Negotiated Rates for each sleeping room type

Date Range for the Contract

Forecast # Rooms and Revenue

Blockout Dates and Periods
An accommodation contract can be attached to a Lead or a Company. Learn how to Create a New Lead if you have not used the Leads Module before.

To Create an Accommodation Contract:
Edit your Lead or Edit your Company

Click on Accommodation Contracts Tab

Click Add Accommodation Contract



Enter the Date Period for the Contract

Select the Status from the following list
Prospective
Tentative
Confirmed
Regretted
Lost
Renegotiation

Select the Optional GDS Channel

Select the Main Contact for the Lead

Confirm the Sales Person

Select if the Accommodation is Commissionable, and select an Agent and confirm the Room Night % commission

Select the Venue that the Accommodation Contract Applies to

Enter the Forecast Room Nights and Revenue

Select the Room Type Access to set the rates offered as Last Rooms Available or Non Last Rooms Available

Set the Contract Type as Individual or Groups. Note: By default you should select Groups

Enter the Pricing Type as Set Rate or Percentage off Rate Code. If selecting Percentage off Rate Code you will be prompted to select the Rate Plan that discounts will be applied to. The discount percentage will be applied in the next steps

Type in any Inclusions

Press SAVE
Blockout Dates
Next click on the Blockout Dates Tab if you wish to exclude certain dates from the contract, or if you need to apply a surcharge for a specific date(s). The surcharge can be set as a percentage or fixed amount that will be added to each room night.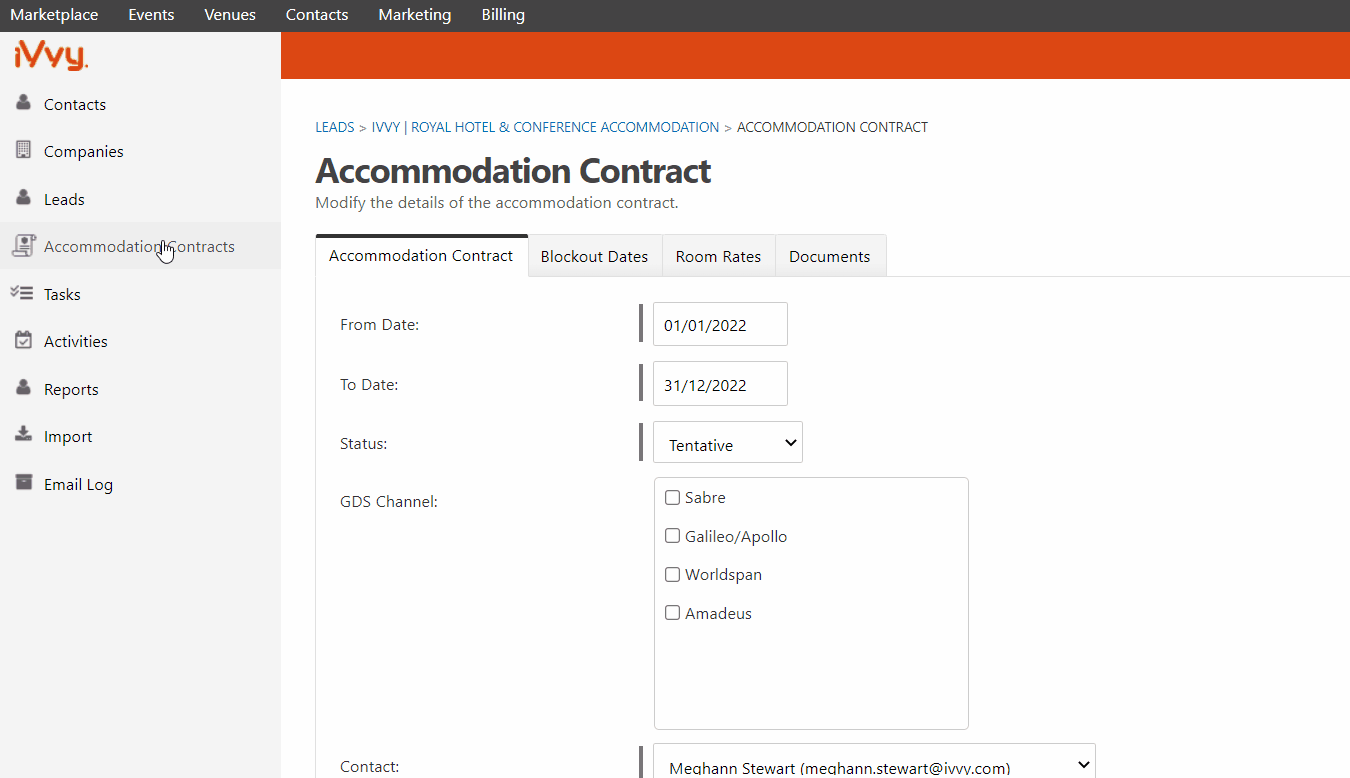 Room Rates
Click on Room Rates

If you have selected the Pricing Type as Set Rate you will be prompted to enter in the contracted rate for each room type


If you have selected the Pricing Type as Percentage off Rate Code you will be prompted to add in the discount % to be deducted from your selected Rate Plan

Documents
Once you have confirmed the details of the Contract, Blockout Dates and Room Rates, you can merge all of the details into the E-Accommodation Contract Document.
Click on Documents

Click Create Document > E-Accommodation Contract

Select your Template. You can edit the Accommodation Contract Template from Global Settings > General > Merge Templates
Learn more about Editing your Document Templates.
Note: You will need to COPY the original E-Accommodation Document and edit the copied version for your settings to be saved. Please contact support@ivvy.com if you are unable to copy this template and they will do this for you.

Wait for the document to be created and then press Preview to review the contract

Click Generate E-Document when ready

To send the Accommodation Contract to your client, click on View (Customer) and copy the URL of the new tab that opens. You can then paste this URL into an email and send it directly to the client to sign. You can do the same with the View (User) URL if you need to send to a manager for approval.
Updating your Accommodation Contracts Actual Rooms & Rates
You can access all of your Accommodation Contracts from Contacts > Accommodation Contract. You can edit and renegotiate the contract as required.
Note: You can create a task to remind yourself when each contract is coming up for renegotiation or expiry.